Memories, Sweet Memories...
My grandma was one of those moms...
My mom is one of those moms...
And I am one of those moms...
You might be one of those moms, too...
Love matching outfits...
Especially on babies and young children (but quite honestly,
if it were really up to me,
at a bare minimum, would like to have coordinating outfits for the older ones, including parents, for photo ops and the like...holidays, special occasions, etc...)
When pregnant with Big Bro, I went out and bought matching outfits...for little baby-to-be and me...
Yes, was the proud owner of not one but three sets of matching mommy nursing nightgowns and baby gowns.
These outfits spoke to me so much so that one of these three sets did not even need to wait to be purchased by someone else...I bought them for myself.
My mom, who also has a thing for matching, bought the other two sets.
Somehow, it just made perfect sense that my newborn and I would be all matching, as if this feat would tell the world that yes, indeed, he is my son...like nursing would not have clued people into that...
Well, it continued from there...from matching mom and first born nightgowns to matching outfits for Big Bro and Little Bro.
Those matching days are coming to an end...knew that it could not be forever, just did not expect that it would happen so young, so soon...
Recently, Big Bro, Little Bro, and I went shopping, as Big Bro told me that he wanted to get something special to wear to his co-op presentation...
He wanted to choose it for himself...which he did.
He chose a rather cute t-shirt...a light blue shark shirt and a pair of plaid shorts.
Then, he went and almost out of habit, helped me find the same shirt for Little Bro, as Big Bro has been doing this drill long enough that he knows the routine...
He knows that Mom has a thing for matching outfits for "special occasions", be it a field trip, a family reunion, a holiday get together, or a photo session to send to relatives.
Well, Monday morning rolled around and it was time for the boys to get dressed for their co-op and for Big Bro's presentation.
As Big Bro was about to get dressed, he told me that he no longer wanted to match his little brother during co-op time...he was fine about matching Little Bro for the rest of the day, but did not want to match him during co-op.
When Dear Hubby and I tried to ask him about this, Big Bro opened up and told us that a few of the bigger boys had commented to him that he matched his little brother and were they twins and that made him feel badly about matching in front of them.
The only problem was that by this point, Little Bro had gotten himself dressed and was so incredibly happy to have on his new "sharkie shirt" and was so psyched that he and his brother were going to match for their special day at co-op.
When Little Bro saw and heard that Big Bro did not want to match, Little Bro was devastated...
So, it really felt like a no-win situation, as Big Bro was making his first attempt at being an individual and Little Bro was still wanting to be viewed as part of the dynamic duo...
We tried to get the boys to work through this on their own without us giving too much input, but it was a challenge...
Finally, Big Bro made a decision...
He decided that he would dress in a matching shirt but would wear the new shorts while Little Bro could wear a different pair of shorts but still have on the matching shirt.
Little Bro was thrilled that they both sported the shark shirts, so all's well that ends well.
Phew...settled...
So, that is how it worked...and to Big Bro's pleasant surprise, the older kids who had before asked him about matching complimented him on his cool shirt and his shorts.
They also complimented Little Bro for his matching shirt, but did not do it in a way that made either of my two feel silly for having matching shirts. Thank you, Boys...
What I am coming to realize is that as Big Bro matures, he is developing more and more into his own person who wants to make more decisions for himself and that needs to be respected by us as his parents.
Someday soon, there is going to come a day when they whole matching outfits will probably stop altogether, unless it is a uniform for a sports team or something like that...
Peanut Butter Cup Time...the Montessori tie-in...
Following the child and being respectful towards a child are the key tenets in the Montessori philosophy.
So, when Big Bro decides that he wants to move on from being dressed like his little brother in photos, then that will have to be that, even though I love having them match.
Big Bro is in his last year of the Montessori inspired 3-6 cycle, so next year, he will be moving on not only as far as his selection of outfits but also his selection of work.
It will be a little different in a Montessori inspired homeschool, in that he will still see 3-6 materials on the shelves, primarily for Little Bro, so if he wants to occasionally go back and revisit those works, that will be his choice...but as he sees the new work and has new lesson presentations for the new work, I am pretty confident that just as he is starting to strike out on his own and make decisions about whether or not to match, he will make the same sorts of decisions about whether or not to choose newer 6-9 work or stay with the more comfy 3-6.
Please be sure to check out:
Jennifer's Making Memories Monday
link-ups,
Jody's Montessori Monday
link-ups,
and
Nicole's Montessori Monday
link-ups.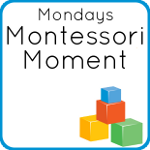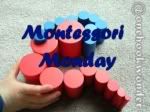 Happy Monday, everyone!