Just wrapped up doing an awesome Continents Swap with some wonderful people!
Was so much fun! For my part of the swap, I made items to go with the continent of Asia.
As part of the swap, my sons did an art project...not a traditional Asian art project, but something that Came up with as it seemed like it would be a fun way to explore textures, color mixing, and to tie in Asia.
So what did the boys do?
Asian noodle art prints!
To Do This Project, You Need the Following:
A variety of uncooked Asian noodles
(We used thin rice noodles, soba noodles, and lo mein noodles, along with some string, as Big Bro wanted to have something that would "look like wet noodles"
Plastic baggies
Paint in different colors and thicknesses (boys used a variety: poster paints, finger paints)
Big sheets of paper
Trays to carry materials (in lieu of trays, we used round, non stick cake pans***)
Protective cover for painting surface
Paint smocks
Directions:
Line up materials for your children to choose from, as far as a variety of paints, noodles, and string.
Have each child make their own concoction of paint bags...mine chose from the paints we had out and squeezed two colors per paint bag...
Then, have your child choose from the noodles.
You may want to encourage them to try a variety of the noodles to see the difference in the types of prints they will get from the different noodles...
One your child has chosen their noodles and paints and has put their globs of paint into plastic bags, all items should be placed either on a tray...
***For our trays, we used metal non stick, round cake pans, as I figured that they are smaller and would rinse off well after the project...
Have each child carry their supplies to a spot outside or else on a porch or lanai...
Big Bro and Little Bro did their painting on our lanai.
Have your child place their paper on a covered, protected surface on the floor...
Then, they should go to it and get creative!
This was a very fun, interesting, educational sort of art project.
The boys saw that some paints were more translucent and some were more opaque...
Also, some of the noodles performed differently, and some noodles were easier to use than others.
Some of the noodles started to stick to the paper, so then, it became interesting, as the boys learned that they had to quickly remove the paint dipped noodles from their art work so as to not have to have the noodles become part of their art work.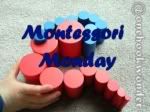 Please be sure to check out the other Montessori posts this week at One Hook Wonder.