We have been busy here doing a variety of works, both old and new.
Here is a recap in photos of some of what we have been doing lately...working hard at having fun and learning at the same time...
Big Bro doing some math and logic work with Cuisenaire rods.
Not exactly Montessori, but ties in nicely with Montessori math work...
Little Bro doing some sensorial and math work with Snap Cubes.
Little Bro doing math and logic work with Cuisenaire rods.
Little Bro working with Montessori wooden math counters, comparing sets.
Big Bro taught Little Bro how to use some acorn counters to do a math work on Greater than / Less Than...
Big Bro and Little Bro holding their glow-in-the-dark balloons. They had an absolute blast playing with these balloons! We took some awesome special effects photos with Dear Hubby's photos that I will post in the future...

Got this idea from a great blog...if it is your idea from your blog post or if you have read about this idea and know the name of the blog, please let me know...

the mommy blogger had said that her hubby had loads of glow sticks and balloons from a work party so she got the idea to add them into the balloons. I tried to go back to search where this was from and cannot find it and want to give a huge shout out to you! We did this twice after I had read about this...the boys loved it, so if this was your idea, please let me know...

Caz and her family did some cool activities with "moon balloons" and other glow projects. Here is a link to her nice post on her cool blog, A Little Learning for Two.
Little Bro lining up picture sound cards to upper case fabric alphabet.
Big Bro doing some farm themed writing practice from an awesome product that I will be sharing a review about this week by Laughing Star Montessori.
Little Bro doing farm themed writing practice. Both boys love this work. Will share a full review of the great pdfs from Laughing Star Montessori that this work goes with this week.
Little Bro having fun doing bathroom pipe construction at the Glazer Children's Museum.
Both boys love this exhibit...so fun to connect the plumbing pipes.








Big Bro proud of his building job.
Big Bro balancing to get the pieces to fit...
Little Bro putting on a hard hat at the construction exhibit at the Glazer Children's Museum.
Little Bro's building construction made with foam blocks...
Driving the fire truck...
Little Bro taking care of a pet at the Vet Clinic exhibit...
Big Bro making felt pizzas at the pizza exhibit...
Both boys cutting pieces of our palm tree with saws on our lanai.
Big Bro's building a contraption at G Wiz Science Museum.
Big Bro is connecting wires and learning about circuits at G Wiz...




Little Bro is having fun hiding in the park...what fun!
Big Bro having fun with a fallen frond.
Big Bro trying to blend in with the plants.
Big Bro resting after climbing a tree. He just loves to climb trees!


This post is linked up to
We Play at Childhood 101
.
This post is also linked up with
One Hook Wonder's Montessori Monday links
.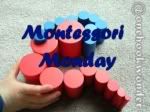 Also, please be sure to check out
Adventures in McQuill-land
and
Mommy Moment
.
I usually link up to these two blogs on Mondays, but they are both doing different things for this week...
Jennifer has done some great book reviews and Jody has given an update on her home renovation project. She also has a great Christmas Gifts Galore thing going on over at her blog, so please be sure to pop by and see what she is giving away during this holiday season.