For starters, if you can find either of these board games, they are well worth purchasing:
My First Builder
and
Lego Creator - the Race to Build It Board Game
. Both games are made by Rose Art. They are fairly hard to find, but you may have luck finding them at consignment stores.
The Lego Creator board game now brings has collector status, so if you do manage to find one at a consignment store, be sure to have your family take good care of it, as it is worth money as a collector's item if you can keep it in great condition.
My family loves these games!
Little Bro likes to work with My First Builder, which is geared for ages 3+.
It uses Duplo pieces to build.
Lego Creator - The Race to Build It board Game uses regular sized Lego. It comes with all of the Lego bricks you need for the game. Up to four players can play this game.
Very cool and fun for children and adults.
Here is the link to make the
Family Fun Lego Projects
.
Here is a the link to the
Family Time with Lego Activity Guide
Lego also invites families to share their creations, as well as to share their unplugged stories...
To share your stories or creations, email
LEGOfamilytime@LEGO.com
MaryLea over at Pink and Green Mama came up wth an awesome idea: she makes up the Lego activity guides
, personalizes them, and gives them as a homemade gift when her son gets invited to a birthday party. How cool is that? What fun for a kid to get a personalzed Lego gift for their birthday!
People love homemade items and kids love Lego, so this is the best of both!
Not to mention the cost savings.
Well, would love to hear how many of your families like to build with Lego and Duplo.
April Update:
We just linked up with Childhood 101.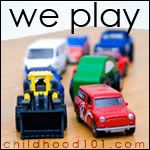 Come over and play at the Childhood 101 We Play link up
and see all kinds of families having fun playing together.