Peanut Butter Cup Time...A memory and a Montessori tie - in!
(The Montessori tie-in is a bit of a stretch this week, but the recipe is Italian, so homage to Dr. Montessori's country of origin!)
When I was little, summers were always kicked off with a school-wide picnic day spent at Waldameer.
Waldameer, which is German for "Woods by the Sea", is situated right by Presque Isle State Park in Erie, Pennsylvania, my hometown. At the time, it was a picnic grounds and amusement park...it has grown into a much larger entity and now boasts fancier, more modern rides and a water park, but back in the day, it was pretty simple.
Here is a link to Waldameer and its interesting park history.
Waldameer is One of the 10 Oldest Parks in the USA.
Waldameer was and to some extent still is an old fashioned style amusement park, complete with two kind of haunted house attractions Pirate's Cove and the Wacky shack, as well as a real wooden roller coaster.
It also had bumper cars called Dodgem's, a water ride / flume run called Old Mill, and several twirly rides, including the Paratrooper, the Spider, the Scrambler, and the Tilt-a-Whirl... these rides made me a little queasy, but we rode them anyhow...
You did not pay for the whole day there...instead, you paid by the ride.
This was a much better set up for our family, as my mom did not go on the rides so she did not have to pay. She would watch us go on the rides and would stay with my much younger brothers while the older kids in my family (including myself) would go on the rides.
My younger brother rode on some of the kiddie rides but were too young to ride on the bigger rides, so they stayed close to my mom and walked around by either the picnic grounds or else the arcade.
My dad did not go with us to this picnic, as it was always held on a weekday, when most dads were at work...so the entire picnic was pretty much staffed by moms, maybe with a few dadss who took the day off to help set things up for the picnic.
For school picnics at Waldameer, they always served food in tents.
The food almost always included two main food items:
Ox Roast, which is not made of ox but of roast beef and spices. Everyone would eat this sloppy but delicious roast beef on a bun, but you actually needed a bowl because otherwise, you would drop it, due to its sheer massive size and juiciness.
Smith's Hot dogs. Smith's Hot dogs are a local specialty and they are still quite popular today for picnics.
Anyone from Erie, Pennsylvania would most likely associate the smell of Smith's Hot Dogs and the Ox Roast as summer smells.
Alongside the hot dogs and Ox Roast, they would serve Troyer Farms Chips, locally grown potato chips that were just great, as well as pototo salad, baked beans, and watermelon.
We also got to have "pop" (aka soda for the rest of the world), mainly cans of Coca Cola all wrapped up in tin foil to help keep it cold.
Once the picnic was over, then it meant the start of summer.
Then, the rest of the summer was pretty much spent at the pool.
Our family lived close enough to the pool that we could either ride our bikes or walk to the pool.
Generally, my sister, my one brother, and I would ride our bikes to the pool.
In the mornings, we had swim team practice.
we would swim until I felt like I could pass out and then, just before doing so, they would blow the whistle and practice had come to an end.
Then, after practice, we would have lunch, usually at the pool and then, we would stay and swim for the remainder of the day. Sometimes, we would get food from the snack bar, but most days, my mom would pack lunch for all of us.
My mom would usually come down to the pool with my three younger brothers. She had so much to lug in with her...three little tots, plus a play pen and pools toys, along with our lunches that she would usually pack for us.
For the most part, it was a great way to spend our days.
Well, wouldn't you know it, lo and behold, Dear Hubby spent his summer days in a pretty similar fashion?
He would wrap up his school year and then, would head to his neighborhood pool. He spent many hours at the pool, but also managed to find time to add baseball and a
family vacation with his grandparents to the beaches of Maryland to his summer routine.
While I was in Erie, Pennsylvania, spending time at the pool and stocking up on Smith's Hot Dogs and Ox Roast sandwiches, Dear Hubby and his family were enjoying Italian Beef sandwiches and Nathan's Hot Dogs...and doing laps at the pool, too.
A while back when we were sharing our respective childhood memories of summertime, we discovered the similarities to our summers.
We also found out the Ox Roast and Italian Beef are pretty much the same thing!
Well, there is not too much of a Montessori tie-in today, except that Dr. Maria Montessori was originally from Italy and who knows, maybe she enjoyed some of these great sandwiches during her summers, too...
Here is our combined version for what I call Ox Roast and what Dear Hubby calls Italian Beef:, in case you would like to make some:
In a crockpot set to low, add the following:
4 or 5 pounds of very rare roast beef from the deli.
2 packages of Lipton Beefy Onion soup mix.
1 can beef stock
1 can beef broth
"Juice" (really the water) from 1 large jar of Pepperoncini peppers (you know, the light green kind of pepper that you get with a pizza in Erie)
You can add one or two peppers too, but this is optional
Now, since Dear Hubby is originally from Chicago and they serve up something very similar to ox roast called Italian Beef,
he prefers adding one or two pepperoncini peppers and a few roasted red peppers.
I prefer to go lighter on the pepper flavor and use mostly the water from the jar to give it a little kick, but not too much of one...but I have to admit...the addition of the roasted red peppers is awesome!!!
1 - 2 tablespoons Worcestershire Sauce
1/4 teaspoon garlic powder
1 - 2 teaspoons oregano
( Again, Dear Hubby goes more for the oregano...with this, I say a little less is more...)
Let it slow cook all day so that all of the flavors are absorbed into the meat.
Season with ground pepper to taste...should not need any salt to be added, unless you used low sodium broth or stock.
Have not found any bread that resembles the marble rye my mom always served the sandwiches on, so we do the Chicago thing and serve it on a nice kaiser roll...
Dear Hubby also adds a few slices of provolone to his, but I skip this step...
So, there you have it...a dinner idea, a memory, a stretch of a Montessori tie-in, and a recipe that is worth trying...
Plus, if you ever go to Erie Pennsylvania in the summer, be sure to check out Waldameer, the beaches of Presque Isle, some real Ox Raost and literally, the best hot dogs ever made by Smith's Provisions!
Yummy!
Enjoy!!!
Please be sure to check out:
Jennifer's Making Memories Monday link-ups,
Jody's Montessori Monday at Mommy Moment link-ups,
and Nicole's Montessori Monday link-ups.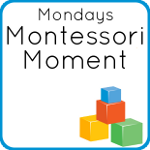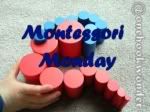 Happy Monday, everyone!