Peanut butter cup time...this time, our version of summer camp (including some Montessori inspired works), plus some memories in the making...
We are having such an awesome summer!
Memories in the making, to be sure...
Such fun times with some wonderful friends who came to visit us for a week, as we packed in Disney, the Florida Aquarium, Clearwater Beach...
We also had fun shopping, playing at the pools, parks, and water parks in our area, and going out to eat, plus some fun hanging out, playing at our home, and just kicking back and relaxing a bit, too....
This past week, we had to take it down a notch and get back into our more regular summer groove...namely, doing our version of "summer camp."
Our summer camp is basically a looser version of our school year.
Both boys still select their work the night before, and they still get started as they normally would during our school year.
(Pictured: sorting shapes work, patterning work, rhyming work with language objects, counting bead stair extension with frog counters, Draw Write Now Frog art and copywork, dart frogs sorting work and dart frog book, block tower work, sound cylinders work, CVC words with language objects and movable alphabet work)
The main difference is that in addition to our Montessori inspired works, there are more non-Montessori materials such as board games, card games, extra art projects, etc. than we normally have during the school year.
Plus, there is some additional free play time added into the mix, to play outside and to catch and / or observe all of the little critters in our neighborhood, along with some down time to watch a family movie, to do some cooking projects, and to just hang out and relax...
For us, our summer camp schedule is a much more loose, go with the flow sort of schedule...
We get out and enjoy the sunshine when we can and then, we hang out and relax when either the weather is too hot or humid, or it is a downpour.
Sinus and ear infections have kept creeping back into our summer, so that has necessitated some time to just chill out, as there have been days when we have not felt up to par.
When you feel dizzy, your face, ears, and head feel like they are going to burst, and your sinuses and ears are so full that your teeth hurt, putting in a nice family friendly movie is not all bad...
It actually can be quite calming and relaxing, although we do not do that during the school year.
(Pictured: Little Bro's art project, cool bilingual English - Spanish card game called
Green Alligators
, having fun in the sun at the beach, Big Bro and Little Bro eating Popsicle treats, Boys trying to pull out King Arthur's Sword at Disney's Magic Kingdom, having fun splashing at the park in the water fountains, checking out the hot air balloons that fly over our home almost daily each morning, Big Bro and Little Bro catching lizards and frogs, as well as watching a grasshopper and an alligator swimming by at a nearby pond.)
We are enjoying our summer, so much so that the happy times will shine through more than remembering the sinus and ear troubles we have had lately. Ear tubes may make their way back in to the scene, but we know that those aren't all bad, as they worked like charms for both boys the last time around, so if it comes to that again, well, BRING IT ON...
But really, when we think back to this summer, we will remember the times spent doing things we love, not times we had to spend laying on the sofa and watching movies.
Well, happy Monday and happy summer to everyone!
Please be sure to check out:
Jennifer's Making Memories Monday link-ups,
Jody's Montessori Monday at Mommy Moment link-ups,
and Nicole's Montessori Monday link-ups.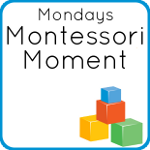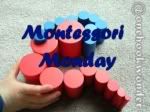 Please also be sure to check out my last post about a light table items swap!
Even if you don't have a light table, if you have a decent light source such as a large window that gets plenty of sun during the day, you could use the items for displaying in your window.