Last week, we officially kicked off our new homeschool year here in the Sunshine State.
We started with a unit on Pandas, focusing mostly on the Giant Panda.
It was quite the hit with both boys!
They both loved reading all about Giant Pandas, and doing various activities related to the Giant Panda.
Here are some photos of the books we read to go with our Panda unit:
Here are some photos of the boys working on a variety of Panda related projects:
Ordinal Counting: 1st - 10th
Big Bro and Little Bro sporting their Giant Panda masks. Great activity for cutting practice and for drama, as they pretended to be Giant Pandas.
Big Bro working on his Giant Panda lapbook. Thanks to Homeschool Share for their awesome Giant Panda lapbook components. We used several of these in both boys' lapbooks.
Big Bro's inside portion of his Giant Panda lapbook.
Puzzle of Asia. Thanks Mondorfment Swaps, as this puzzle is a part of one of the swap items we received in our fabulous swap package!
Cub Facts book: both boys made one of these. Big Bro did his own writing while Little Bro dictated his facts to me. Both loved that baby pandas are pink and the size of an ice cream sandwich when they are born.
Big Bro's origami panda. Big Bro was able to do this independently.
Some Giant Panda facts...
Big Bro's Giant Panda with China artwork.
Little Bro's Giant Panda drawing on the back of one of his P practice sheets.
P, P, P...P is for Panda! Little Bro's P sound chant and artwork...
Little Bro's Giant Panda Montessori-inspired work. Using tweezers, he had to place black and white chips over the correct spaces on the panda body.




From Little Bro's Giant Panda lapbook. He did a great job cutting and placing his pictures on this page.
The boys loved learning about the Giant Panda as well as the Red Panda.
Giant Panda chart from Enchanted Learning. This worked as our basis for making our own Montessori inspired Giant Panda nomenclature cards.
They loved learning about the origin of the Giant Panda, the Giant Panda nomenclature, as well as fun facts about both kinds of pandas.
We mostly focused on learning about the Giant Panda, as we have decided to learn about one animal per week that is either considered to be endangered or is a protected species.
We also did some cool works related to endangered species, including this one:
Little Bro matching the endangered animals.
The boys had to match the animal cut outs to the animal poster. Big Bro had to also match the names of the animals on the poster, whereas Little Bro just focused on matching the actual animal pictures.
Big Bro and Little Bro holding up one of the panda cakes.
Panda cake close up.
Dear Hubby helped the boys make panda cakes.
We used a white cake mix and baked it in a square 9 x 9 pan.
We then let it cool and then, Dear Hubby cut it into four round small cakes with a biscuit cutter.
He took off the golden brown part of the cake and made each cake so that it would sit easily on a plate.
Three of the four little cakes were frosted. Big Bro did not want frosting on his cake, and that was fine, as since the cake was white, it still worked well to be the panda's head.
We added three Hershey's kisses for the eyes and the nose. For the one used for the nose, we all turned our kisses on their sides.
For the ears, we split regular sized Oreo cookies and just used the chocolate cookie pieces turned upside down for the ears.
The cakes were delicious, but exceptionally rich.
None of us could finish the cakes.
If we did it again, we would have just made one small cake to share.
We also did some black and white art work, but I have yet to upload the photos of these...this was perfect timing, as I have been reading the Reggio Emilia inspired
Language of Art
book and black and white paintings were a concept covered in this great book.Will post these photos soon.
All in all, a very productive panda week!

In case any of you decide to do a Giant Panda unit, here are some wonderful links:
Giant Panda lapbook created by Ami Brainerd and her son, Elijah, along with some research by Carisa Hinson
A huge thanks to Ami, Elijah, and Carisa!
Giant Pandas at the National Zoo Panda page
Giant Pandas for Kids page
Zoo Atlanta Panda Cam
San Diego Zoo Panda blog
San Diego Zoo animal Bytes: Giant Panda
San Diego Zoo Panda Cam
Enchanted Learning Pandas page
This post is linked up to Montessori Monday over at One Hook Wonder.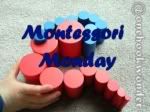 This post is linked up to the Montessori posts over at Mommy Moment.