Today, I am kicking off something that I hope to do on a pretty regular basis called Local Limelight.
Local Limelight is where I will highlight a business that we use locally.
Will do a review of the business and then, my thoughts for you. Am going to tie these Local Limelight posts into a neat summer blog hop called
Show Us Your Town
, too...
Well, as most of you know, we live in a suburban area outside Tampa so for Local Limelight, I will feature places in our region, so that could include St. Pete Beach, Madeira Beach, Holmes Beach, Clearwater, Dunedin, Tarpon Springs, Largo, New Port Richey, Lutz, Carrollwood, South Tampa, and downtown Tampa, New Tampa, Wesley Chapel, and then, will also do businesses from The Villages, and if the need arises, will extend over to Apopka, Clermont, Mt. Dora, Orlando, Kissimmee, Plant City and Lakeland.
If you wish to have your business featured, if you have something that ties in with friends and family, please contact me so that I can send you a media kit and can come see your business to see if it will work as a potential feature.
I will be focusing mostly on places that our family already uses as customers or clients and that we love as a family!
Gator Fred's
is on Twitter
@gatorfreds
and
Gator Fred's is on Facebook
.
Gator Fred's
has two locations: one in Largo and one in Tampa.
We went and checked out the Tampa location.
Gator Fred's
offers some nice pass cards that give you some great savings. We have been trying to coordinate a playdate to go play there with our friends, but both families have been super busy so the play date has not happened just yet.
Then, had seen something through
Living Social
* that
Gator Fred's
had a fabulous deal going on, so that peaked my interest all the more.
(*If you for some crazy reason, have not signed up for
Living Social
in your region or city, be sure to do so, as they have some fabulous deals)
Decided to go check out
Gator Fred's
with the boys...
The Living Social Deal for
Gator Fred's
was awesome, in that it was $15. for a month of unlimited visits! Wow!!!
Felt that this is a very decent price for an unlimited day of fun at
Gator Fred's.
Gator Fred's
is a very cheerful, colorful, clean, welcoming place for little ones.
It also makes you feel that your child will be safe, as to how it is set up.
Feels fun from the second you walk in the door!!!
Near the front desk area, they offer food and drinks for sale that appeal to both children and adults.
What makes this business a stand-out and why are they featured in Local Limelight?
When you come into the place, you can feel a sense of good, clean, fun, but then, as you stay longer, it goes deeper than just good, clean, fun...
Speaking with the owner, Mr. Fred, you hear how this business is owned by him and his family, including his wife, Sandra, who was working at the Largo location on the day we visited.
You hear about their family vision of having a play for children to play and explore.
Owner, Fred from Gator Fred's
Then, you hear how Fred and Sandra go out of their way to help the special needs community in the region...they do special days for children on the autism spectrum, as well as children with Down Syndrome, as well as days for children who are blind or visually impaired.
Fred and his wife want
Gator Fred's
to be a fun, developmentally appropriate place for all children. When he does these special days for special needs children, additional support people come in from various groups to help out and to be available to speak with parents to be a great place for families to get support and to be able to network within their specific special needs community.
He added that they do special things such as limiting the number of children to a smaller size when these groups have their special days, as well as turning off or down the music that plays so that it is quieter and more calm for the children.
Can only imagine how nice it is for these families to have such a wonderful place to bring their children for a special day geared towards their needs!
We were there for a regular day and we had a blast! The workers there were very helpful, kind, and courteous, the place was very nice and clean, and the food we had was very tasty!
Both Big Bro and Little Bro had a blast and we will definitely want to go back there again soon!!!
Thanks to Fred and his wife Sandra for opening such a wonderful business in our region!
What a great time we had and look forward to more fun in the future!
Here are some fun shots from our visit...
@gatorfreds
on Twitter and like
Gator Freds on Facebook
and let them know that you saw this post about their cool place on Sunrise Learning Lab!
If you are a special needs group and want to make plans for a special needs day, please contact
Gator Fred's
Directly to see if anything is already scheduled or if you would like to schedule things. They also can accomodate field trips for schools, homeschools, and summer camps.
Tampa: 813-264-1700
Largo: 727-498-8894
Gator Fred's
also has party packages and special events so be sure to check their website. Also, if you have an idea for an event or a day for a special group of children, please call them to discuss. They are very kind and am sure that they would do their best to work with you on things.They also have bouncy houses for rent if you want one for your local party!!!
Well, hope that you like this post!
If you have been to
Gator Fred's
or wish that there was a Gator Fred's near you, please be sure to comment!
Also, for this summer, please join up with a neat blog hop that I was invited to over at
Mom to 2 Posh Lil Divas
called
Show Us Your Town
. I am going to add my Local Limelight posts, along with posts about nature, travel, and family fun in and around our region.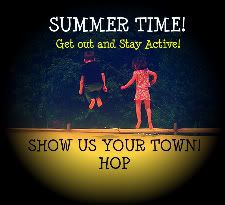 Mom to 2 Posh Lil Divas
Heartfelt Balance Handmade Life
Coolest Family on the Block
Michelle's Charm World
If you are planning a visit to the Tampa region, or even to Orlando, please keep your eyes peeled for these posts, as I will be showing the sights and sounds around town!
Here is the code for the blog hop if you wish to participate. Thanks to the lovely bloggers who put this together. Think it will be fun to see other people's towns!