What have we been up to during the dog days of summer? Well, all kinds of things!!!
The boys have been at summer camp this whole week. The camp is in the afternoons every day from 12-3:30 so we still have plenty of time to do things in our home and out and about at the parks and pools.
We have taken a few video clips at summer camp, but since there are so many children there, it would be a challenge to try to contact each family individually to see if they are okay with being on my blog, so have decided to not post the video clips at this time...the boys are having a great time though!
And I have been having fun too. Have been going to
Starbucks
to get my new favorite summer drink, a
Mocha Coconut Frappaccino
! These are so delicious! You can order it without the whipped cream and you can cut back on the pumps of the coconut syrup too if you are trying to watch your caloric intake. Totally delicious this way too! Yum!!!
Now, alternating between those and my other stand-by favorite, iced lattes! Works out great though, as the boys go to camp and I can get some things done either right at
Starbucks with their free Wi-Fi
or else out and about doing errands. Really has worked out great to have them do half day camps this summer! Fun for all!!!
So instead, here are some fun photos of the boys having fun, some are from a week or two ago, some show fun both before and after camp, and some are a few shots that reveal the heat wave we have had here in Florida...
Warming up at 98 degrees F...not including the humidity index...
Little Bro keeping cool in the shade of the cabana at our pool.
Big Bro doing what he loves to do: climbing trees.
Boys playing in the shade underneath the pier at Clearwater Beach
Big Bro playing in the sand and water underneath the pier.
Water toys courtesy Melissa & Doug and Target.
Big Bro and Little Bro are joined by two friends. We gave them a bin filled with coins and they took turns paying and pouring for each other...way too hot to actually stay outside to wait for real customers. Everyone was happy though, as they all got to try a little treat of Kool-Aid, plus they each got 4 quarters to keep! Yay!
Little Bro is now starting to take after Big Bro with a love for climbing.
Crazy hot! 100 degrees F but then with the humidity index, really felt like a furnace!
Little Bro made this for me. "Mom, it's you and daddy"...Ahh...Love, Lego style!
We love all things Lego and are super excited that it is getting closer and closer to Legoland Florida opening, as the park is close to where we live. Can't wait!
Little Bro having a silly fun time!
Big Bro having fun doing a one person puppet show!
Big Bro relaxing after putting a pirate puzzle together. Pirate puzzle courtesy of Melissa & Doug.
Both boys working on a cool water vehicle kit. Can be made into several different types of vehicles and simple machines. Really neat kit, but very tiny photos and directions. Tricky to see / read the directions, especially since Big Bro wears glasses. The boys tried to use the directions as much as they could see, but improvised with some of the steps.
Neat Community Workers lessons to go with Safari Ltd Community Workers Set. The lessons are designed for 5th and 6th grade students, but work fabulously with gifted primary aged students as well. The boys have had a fun time doing these lessons before and after their afternoon camp time. Lesson plan book and Community Workers Set Courtesy Safari Ltd.
Little Bro is proud to have built such a tall structure! We were so lucky to find these blocks at a consignment store! Both boys love playing with these very sturdy blocks!
Brotherly love...
More fun at our water park to keep cool on hot days...
Fun in the sun and in the water with Daddy!




Have you posted photos of where you live?




If you have, you should link up with Show Us Your Town tomorrow over at Mom to 2 Posh Lil Divas!
Linky opens every Friday and Saturday for the summer. It is a fun blog hop, so pop by and Link up if you get the chance.
I plan to link up tomorrow!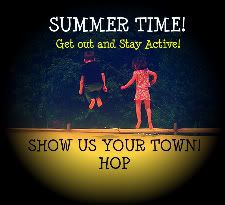 Hope that you are having fun in the sun where you live!