For today's post, I have some of the handmade and swapped items in our Continents box for Africa.
We did not take photos of the pin flags from various African nations, any of the three part cards of African animals or African homes, nor any of the African themed picture books we have, as Dear Hubby was helping me to take these photos this early morning before he left for work. Will have to either add some photos of our books that represent Africa later today to this post or else, might just do an additional post of all of the books we have for the various continents at the end of this blog hop...
Also, if you read through this post and have any additional items for Africa that you would like to swap, either electronically or else through the mail, we would be interested in swapping with you. We are still trying to develop our boxes for Africa, as many areas are very underrepresented in what we have, so if you look through this post and you have something that you would be willing to swap that is different than what we have, please let me know and we would be up for a swap with you.
Here is a great link to Homeschool Share that includes wonderful ideas for Africa resources, including free three part cards for Africa made by
Karen Briguglio

.
Wende also made some great materials on this page, as did Molly Coulter, including some free African animals cards.
Jen Fuller from Goldmark Montessori also has made some neat cards to go with Africa.
Thanks to one of our swapmates,
Karen
, who really helped all of us by sending us some fabulous books as part of our most recent swap. Karen has an adorable blog called Little Acorns. Gotta check out her blog, too. Not sure if it by invite only to read her blog, but check it out as it is a neat blog.
Plus, as far as Montessori inspired work, we do not have the wonderful large wooden puzzle map of Africa, but we do have a paper version of a map of Africa with a control of error sheet.We would just love to have each and every beautiful wooden puzzle map that you would have in a Montessori classroom, but for now, we have just a few of them.
Also, usually, Dear Hubby crops the photos for me, zooms in where necessary, etc. but due to needing to leave for work, we just did them as quickly as possible and they still seemed to turn out pretty decently.
If you go through the photos and have any questions about any of the photos, please let me know and I will get back to you.
Aly at the
Power of Two / Our Roxyboxen Adventures
had sent her swap mates some neat swap items, including the following:
- 2 wooden animals and some tiny shells
- a Nefertiti bust
- swatches of fabric for matching work
- stamps and coins from some African countries
- Egyptian pendant
- drawing of 2 indigenous people...but I could not find the drawings of the 2 indigenous people this morning...not sure if it is in my "To Be Laminated pile" or if the drawings have accidentally been places in the wrong continents box...
Thanks again to Aly for these items, as they have been nice additions to our box for Africa.
Thanks again to
Honey
for hosting such an awesome swap.

Also, a huge thanks to Dear Hubby who squeezed yet another thing into his busy morning to take the photos for me. He is an awesome hubby, if I do say so myself.
Here are our Day 2 - Africa photos:
Additional view of our Playmobil African safari set. This is one of the boys' favorites.
Hand woven art work starter and completed work from Africa
Fabric swatches for fabric matching work, shells, and other items from Africa from swapmate, Aly.
Stamps, some from swapmate, Aly, and some from our World Stamps work. The ones from the World Stamps work are backed with green paper and are laminated. I am most likely going to do this with any / all stamps we have, as it keeps them protected so that they last longer.
Money, stamps, and photos from various African nations.
Photos of homes and people from various African nations. These do not have the matching green trim that some of our items do for Africa, but it is something that I would like to do in the future...
DK book- A School Like Mine: Africa and the Middle East. This is the only book that I consistently keep in our Africa continents box, as it is an informational type of book and is small enough to fit in the box. Many of the picture books we have for Africa are books that the boys have on their book shelves and can read anytime...
Some of the paper dolls for Africa. Sometimes, these are out as a work, either as a matching work or else they are used as stick puppets.
African animals; these are sometimes in the continents bins, sometimes out as shelf work, and sometimes in with our blocks.
Handmade and hand painted pottery pieces from Morocco.
Handmade woven African instruments
Hand carved wooden animals of Africa...some are painted and some are natural wood.
Africa puzzle map with control of error and information page.


Well, that wraps up what we have in our Continents Box for Africa.
We also have done some unit studies that relate to Africa:
Ancient Egypt
- this post shows many of the neat projects the boys made related to Egypt.
Endangered / protected species -
Gorillas
We have decided to study various animals that are either endangered or protected species. We studied gorillas as part of this endangered animals unit that we started and are still doing at the moment.
Be sure to check out Jolanthe's information and free printables for Africa at Homeschool Creations. Here is a
link
...
As you can see, we do not have any post cards from any African nations, so if you read this and have a post card from Africa, we would love it if you sent us one! We would gladly send you a postcard from Florida in the USA in return for one from where you live or visited in Africa.
Hope that you will join the blog hop and share what you have in your boxes!
This post is also linked up with
One Hook Wonder's Montessori Monday
.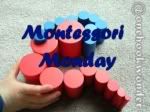 This post is also linked up to
Mommy Moment's Montessori Monday link ups.